Microsoft
Office 365
Invalid OCSP signing certificate in OCSP response. Error code: sec_error_ocsp_invalid_signing_cert
It looks like a security feature on Firefox somehow stops you from getting into your Sharepoint. OCSP is actually an advanced security feature in Mozzila Firefox that checks on the website's certificate. In this case, there's probably an issue on O365.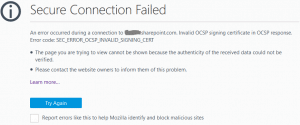 However, if you are already starting to crack your head or pulling your hairs, there's always a quick workaround you can use. To work around this issue, you will need to turn off the OCSP Stapling function in your Firefox.

Enter about:config into the Firefox address bar

You will be presented with this warning. Go ahead, click on I accept the risk!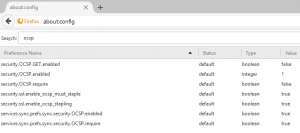 Search for "OCSP" and preference will be filtered down to those related to OCSP

Double click the one that sales security.ssl.enable_ocsp_stapling and make sure the value is "false" . VOILA!! Your Sharepoint should start working again !
This settings, however, will slightly lower your security. You might want to come back here and revert the settings once the issue has been resolved on O365.
Cheers~