Bank
Public Bank
Verified by Visa
Visa Electron
Verified by Visa for Public Bank Visa Electron
Here's a guide on how to enroll your Visa Electron to a new service offered by Public Bank at to extra cost to enhance your PB Visa Electron. It is a Personal PIN similar to ATM PIN but it has 8 digits to add a second layer of protection against unauthorised usage of your card when you shop online. So far, I notice that Genting Highland online booking have already started to use this new system. For further information about VbV, please read Get Verified by Visa
Instructions….
Step 1. Point your browser to http://www.publicbank.com.my . Once the page has loaded. Scroll down until you see the following logo on the left navigation bar. Then click on it.

Step 2. You will see 2 options. Use the link for New Enrollment.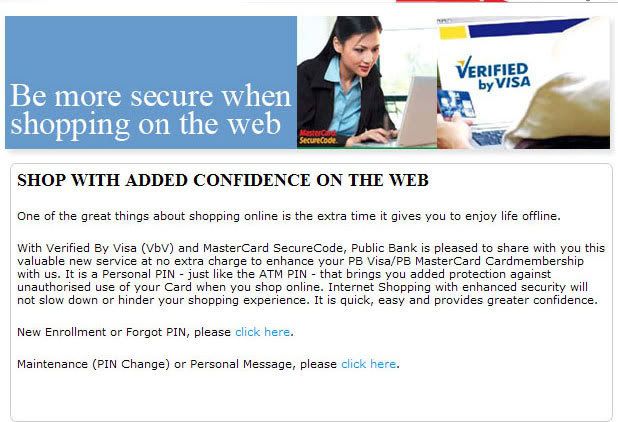 Step 3. Click on the Visa logo. Another page will pop up on a new browser. Make sure you have set "Allow popup" for publicbank.com.my domai. Else, you will not be able to see the new page.
Step 4. Fill in the form. Make sure you only put "000000" for the Credit Line. Note that this Credit Line only works for Public Bank Visa Electron. After you've filled up everything, key in the Mother's Maiden Name that you've used when you sign up for your Visa Electron card. Then click Activate Now.
Step 5. Fill in the Personal Message. This PM is stored on the bank system. Only the bank and you knows about this Personal Message. The next time you make transaction at marchant's site that require VbV, you will see the PM that you've submitted. This is to ensure that you're not being directed to a phishing site instead. Use the keypad on the right to create your PIN. Click Submit when done.
Voila! You're set to go on a shopping spree… if you have the money. he he he…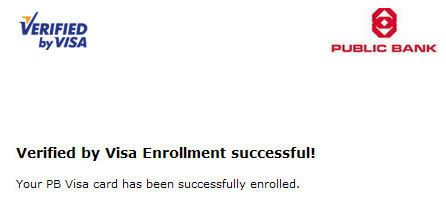 p/s : If you plan to put this on your site, please at least give me a credit or put a link back to me. I put a lot of effort and time in making this guide. Thanks.