Adsense
Make Money Online
Malaysia
Malaysian
Sign up for Western Union Quick Cash for Google Adsense payment
Western Union payment method will definately shorten the time to get your hands on your Adsense earning by at least 2–3 weeks.
To sign up for Western Union Quick Cash service, you can click on the Sign Up link if the news bar below is shown at your Google Adsense dashboard.
OR
you can complete the following steps:
1. Sign in to your account at www.google.com/adsense.
2. Visit the My Account tab.
3. Click the 'edit' link adjacent to the 'Payment Details' header.
4. Select the Western Union Quick Cash radio button.
5. Click 'Continue'.
6. Click 'Save Changes' to save your payment type.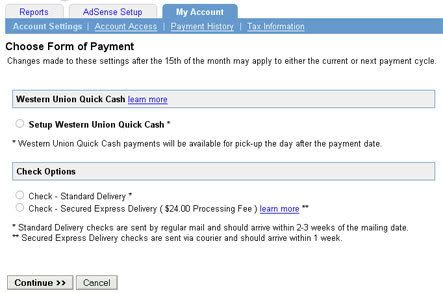 Please make sure that the name on your account exactly matches that on the government issued ID card that you will bring to pick up your Western Union Quick Cash payments. If you need to update your payee name in your account, please inform Google Adsense team and will help you to do so.
Also, please note that Google Adsense is unable to guarantee payment for the next payment cycle in this form if your selection was made after the 15th of the month. For example, to ensure payment by Western Union Quick Cash for your March earnings, please complete the steps above before April 15th.