Bank
Life Blog
Lifestyle
Malaysia
Malaysian
Public Bank
Shopping
Verified by Visa
Visa Electron
How to reload your Public Bank Visa Electron
A lot of people started to use Debit cards nowadays. Currently there are 2 commonly used card in Malaysia which is the Public Bank Visa Electron & Ambank NexG prepaid Credit Card.
I've decided to make this guide because a lot of people PMed me in Lowyat Forum on How to reload their Public Bank Visa Electron card. It will be easier for me to ask them refer to this post instead of repeating the steps all over again.
Anyway, to reload your Visa Electron via Internet Banking, you need to have at least 1 Savings or Current Account linked to your Internet Banking account before you proceed to the next step.
Step 1. Point your browser to https://www2.pbebank.com/main.html
Step 2. Enter your login ID and password
Step 3. After logging on, you'll be brought to you internet banking account page.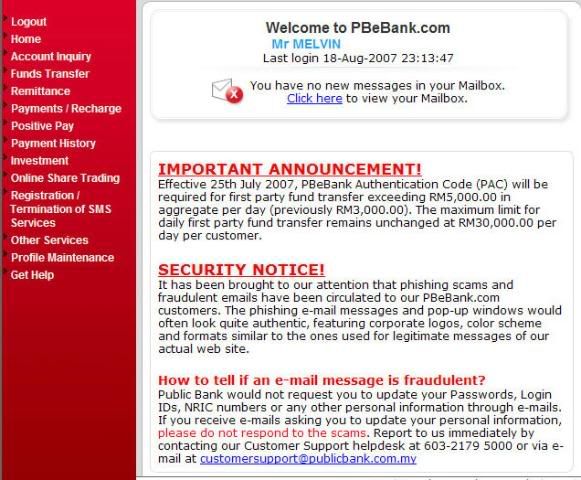 Step 4. Notice the menu on the left. There is a link for Payment/Recharge. Click on it.

Step 5. You'll notice another sets of links available to you. Under the Credit/Debit Card payment category, click To Own Accounts.
Step 6. Next, choose the account that you'll be transfering the funds from and the debit card account you are transfering funds to. Then enter the amount that you want to transfer and click Next
Step 7. After clicking Next, you will see a confirmation page. Make sure all the details is correct before before clicking Confirm. Else, click back if you need to change anything.
Final step. Upon confirming your transfer, you'll be shown the status of the transfer. If the transaction is accepted, Congratz! You've successfully reload your Debit Card.
If there's anything that you don't understand, feel free to leave a question of comment. Cheers!
p/s : If you plan to put this on your site, please at least give me a credit or put a link back to me. I put a lot of effort and time in making this guide. Thanks.